Veggie Wraps With Spiced Edamame Falafel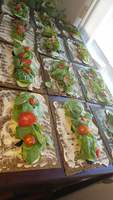 We've swapped out chickpeas for edamame in this twist on typical falafel. Served with a homemade sweet and sour papaya chutney and creamy yogurt, there is a full meal within in these veggie wraps. This recipe features our super delicious Smokey Heaven Wrawp Wraps which makes the results taste unbelievably great.
Serving size: 8 servings
Prep Time: 30 min
Total time: 50 min
For Spiced Edamame Falafel Veggie Wraps with Papaya Chutney you'll need the following ingredients:
1 tbsp ground flaxseeds
1 tbsp grapeseed oil, divided
1 small onion, diced
2 cloves garlic, minced
1 tsp each ground cumin, coriander and turmeric
4 cups edamame, shelled and cooked
1/3 cup fresh flat-leaf parsley, finely chopped
1/2 tsp sea salt
2 large beets, grated
2 large carrots, grated
1/2 cup plain coconut or regular yogurt
Papaya Chutney:
1 tsp grapeseed oil
3 cloves garlic, minced
1 jalapeno chile pepper, seeded and minced
1 tsp ground coriander
1 small papaya, cut Into 1/4-inch cubes (about 3 cups)
Juice and zest of 1 lime
1 tbsp apple cider vinegar
1 tbsp peeled and minced fresh ginger
1 tbsp pure maple syrup
1/8 tsp sea salt
Directions
Prepare chutney: In a medium saucepan on medium, heat 1 tsp oil. Add 3 cloves garlic, jalapeno, and coriander and saute until fragrant, about 1 minute. Add remaining chutney ingredients except for the salt, and stir. Bring to boil, reduce heat and simmer for 20 minutes, stirring occasionally. When the chutney has reduced by one-third and has thickened, remove from heat and stir in 1/8 tsp salt. Chutney can be served warm, at room temperature or chilled.
Meanwhile, in a small bowl, combine flax seeds and 2 tbsp water. Set aside for at least 10 minutes.
In a small skillet on medium, heat 1 tsp oil. Add onions and saute until translucent, about 4 minutes. Add 2 cloves garlic, cumin, coriander and turmeric and saute until fragrant, about minute. Set aside.
In a food processor, combine edamame, parsley, and 1/2 tsp salt . Process until thoroughly combined -- but only to a coarse, mealy texture. In a large bowl, add edamame mixture along with onion-spice mixture and flaxseeds. Using your hands, thoroughly combine. Using a 1-tbsp measure, form mixture into small balls and arrange on a large parchment-lined baking sheet, making about 32 balls in total.
In a large skillet on medium, heat 1/2 tsp oil. Add 8 balls. Using your spatula, flatten each ball slightly, cover and cook for about 2 minutes, or until golden brown. Flip, cover and cook for another minutes on the other side. Repeat with remaining oil and balls.
Divide falafels, beet and carrot, yogurt and papaya chutney among Smokey Heaven Wrawp Wraps.
Tips and recommendations to make this recipe even better than other veggie wraps recipes:
For a kick of heat, try a quick spicy tahini sauce instead of yogurt - simply whiz up tahini paste, water, lemon zest and juice, and a red chile in a food processor and you've got another element to add to these veggie wraps!
You can prepare the chutney in advance and spend less time on cooking when you are in a hurry. Cover and refrigerate. Before cooking, allow 1 hour to come to room temperature.