Silly Face Hummus Raw Vegan Wraps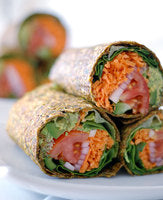 This super-fast and super-easy raw vegan wraps recipe is also fun, creative, and tasty. Your kids will appreciate what our fabulous Veggie Life Wrawp Raw Vegan Wraps add to this great lunch meal. Moreover, your kids can help with cooking -- and have fun doing it! It's perfect for all parents and children everywhere!
Serving size: 4 servings
Prep Time: 10 min
Total time: 10 min
For Hummus Raw Vegan Wraps you'll need the following ingredients:
4 Veggie Life Wrawp Raw Vegan Wraps
½ cup hummus
lettuce
shredded carrots
small cucumbers, sliced
olives, sliced
cherry tomatoes, sliced
cornichons
peppercorns
Directions
Spread 2 tablespoons of hummus on each of the Veggie Life Wrawp Raw Vegan Wraps. Layer with lettuce and shredded carrots. Fold the bottom half up 1 inch and roll the tortilla like a burrito, allowing some of the lettuce to stick out of the top to look like wacky hair. Keep the tortilla in place by using hummus as glue to seal the side.
Select sliced vegetables for eyes, nose, mouth, etc., and use hummus to glue them onto the wrap to create the silly faces.
Tips and recommendations to make this recipe even better than other raw vegan wraps recipe:
Not in the mood for fun and some foolishness with silly faces? Just skip it, the wraps will still be good, we swear!
In order to keep this recipe truly raw, choose raw hummus when shopping for the ingredients.