Mushroom, Corn, and Fontina Cheese Healthy Wraps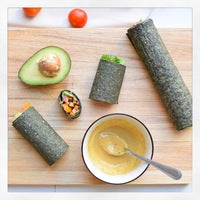 These simple-to-make healthy wraps are stuffed to the brim with vegetables and cheese then baked in a luscious creamy yogurt sauce. Our Original Wrawp Vegan Wraps makes this recipe only better!
Serving size: 10 servings
Prep Time: 30 min
Total time: 55 min
For Mushroom, Corn, and Fontina Cheese Wraps you'll need the following ingredients:
1 ½ lb white mushrooms, stemmed and thinly sliced
½ tsp dried thyme
1 tsp fresh ground black pepper, divided
5 scallions, white and light green parts, sliced (about ½ cup)
2 ½ cups fresh or frozen corn kernels (if fresh, from 3 to 4 cobs)
1 tsp smoked paprika, plus additional for garnish
4 oz Fontina cheese, grated (1 packed cup)
2 large eggs, yolks and whites separated, divided
2 cups whole-milk Greek yogurt
2 ½ tbsp chopped fresh chives, divided
1 tsp fresh thyme leaves
Olive oil cooking spray
Directions
Mist a large skillet with cooking spray and heat on medium-high. Add mushrooms, dried thyme, ¼ tsp salt and ½ tsp pepper and cook, stirring frequently, until liquid evaporates, 6 to 8 minutes. Reduce heat to medium and continue cooking, stirring frequently, until lightly browned and tender, 6 to 8 minutes more. Transfer to a medium bowl. Mist same skillet with additional cooking spray and heat on medium-high. Add scallions, corn, 1 tsp paprika, 1/8 tsp salt and remaining ½ tsp pepper and cook, stirring frequently until crisp-tender, about 6 minutes. (NOTE: If using frozen corn, cook just until the water evaporates and corn is heated through.) Add to bowl with mushrooms and set aside.
Mist a 9 x 13-inch baking dish with cooking spray. Place a generous ¼ cup mushroom mixture and about 1 ½ tbsp cheese down the center of a Original Wraps and gently roll. Place in baking dish. Repeat with remaining wraps, lining up 8 wraps in the baking dish and placing the last 2 wraps perpendicular to the first 8, along the length of the dish.
In a large bowl, stir together egg yolks, yogurt and remaining 1/8 tsp salt. In a medium bowl, beat egg whites with an electric mixer on medium-high speed until they hold soft peaks. Fold in about one-third of whites to yogurt mixture until combined. Add remaining whites, 2 tbsp chives and fresh thyme and fold until combined.
Preheat oven to 400°F. Spread yogurt mixture over wraps, covering completely. Bake until yogurt feels slightly firm to the touch and has a fluffy texture, 20 to 25 minutes. Rest for 5 to 10 minutes. Sprinkle with remaining ½ tbsp chives and additional paprika before serving.
Tips and recommendations to make this recipe even better than other wraps recipes:
While cooking mushroom mixture, do it in 2 batches if your skillet won't hold all the mushrooms comfortably
Yogurt mixture can be done 1 day ahead. Cover with foil and refrigerate. Before baking, allow 1 to 2 hours to come to room temperature.
You can prepare the wraps 1 day before baking. Cover and refrigerate. Before cooking, allow 1 hour to come to room temperature.