Raw Vegan Wraps with Sweet Potato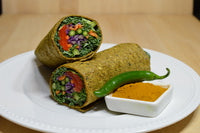 We consider this raw vegan wrap recipe an autumn one. Just the combination of ingredients and their colors reminds us of colorful autumn. It also features sweet potato and avocado wrapped in our spectacular Spirulina Wrawp raw vegan wraps to make it the ultimate healthy nutritious raw vegan recipe! Have you ever seen all these words in one sentence? Trust us, it's true! Let's get to the details:
Serving size: 4 servings
Total time: 30 min
For Sweet Potato, Avocado and Red Cabbage Raw Vegan Wraps you'll need the following ingredients:
1 large sweet potato, cut into 1cm-thick cubes,
Olive oil spray,
1 avocado, cut into 1cm-thick cubes,
1/2 cup shredded red cabbage,
1 cup mixed field greens,
1 tbsp tahini sauce,
4 Spirulina Wrawp raw vegan wraps
Directions
1.Preheat oven to 450F. Spread sweet potato pieces on a baking sheet and lightly coat in oil using olive oil spray. Bake for 25 minutes, shaking pan once, until soft and golden.
2.While sweet potato is baking, spread tahini sauce on 4 Spirulina Wrawp raw vegan wraps, top with field greens, red cabbage and avocado.
3.Once sweet potato is cooked, add equal portions on raw vegan wraps and roll up.
4.You can serve the wraps cut in half if you'd like.
Tips and recommendations to make this raw vegan wrap recipe even better than other raw vegan recipes:
a)You can switch sweet potato to butternut pumpkin if you like those more in your vegan recipe
b)To add proteins, feel free to mix in any nuts (like cashews). This will also add nice crunchiness to these raw vegan wraps
c)When shopping for tahini sauce, choose low-carb, low-sodium organic version, if you love yourself as you should.
d)You can also switch the sauce to any other that you like. Those ingredients cannot be spoiled with anything!
So here you go. Do you taste autumn on your tongue? Now all you need to try this raw vegan recipe is buy the ingredients you don't have, add our awesome Spirulina Wrawp raw vegan wraps to your cart and start cooking! This is a great lunch idea! Good for a snack too, if cut in smaller pieces! Want more? Go check out our other vegan recipes, like Creamy Avocado & White Bean Paleo Tortillas. They are wonderful too!