Deli Gluten Free Flatbread with Artichokes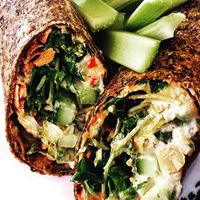 Sometime around Thanksgiving most of the grocery stores are overloaded with all kinds and all sizes of pumpkins, and you kinda wanna cook everything with the help of this colorful, healthy, and nutritious buddy. So we decided to add pumpkin sticks to this easy gluten free flatbread wrap recipe. It also features marinated artichokes and semi-dried tomatoes that make this gluten free recipe just awesome and very yummy. 
We will use our classy Original Wrawp, you cannot find a better gluten free flatbread! Cottage cheese and basil also add flavour and vitamins to this gluten free recipe so you just need to try it and try it now! Here are the details:
Serving size: 4 servings
Prep Time: 30 min
Total time: 30 min
For Deli Gluten Free Flatbread with Artichokes, Semi-dried Tomatoes and Pumpkin Sticks you'll need the following ingredients:
700g peeled butternut pumpkin, cut into 1cm-thick sticks
Olive oil spray
120g cottage cheese (low-fat)
60g spinach leaves
200g drained marinated artichokes, chopped
200g drained semi-dried tomatoes, chopped
8 torn basil leaves (large)
4 Original Wrawp Gluten Free Flatbread
Directions
1.Preheat oven to 450F. Put pumpkin in a single layer on a baking sheet and lightly coat in olive oil spray. Bake for 25 minutes or until soft and golden, shaking pan once or twice.
2.In the meantime, cover 4 Original Wrawp Gluten Free Flatbread pieces with cottage cheese. Put artichokes, tomatoes, spinach and basil on top. Roll up to enclose filling, then halve on an angle.
3.You can cut the flatbread in half if you'd like. Serve with cooked pumpkin sticks
Tips and recommendations to make this recipe even better than other gluten free recipes:
a)When shopping for this gluten free recipe, please make sure that all ingredients are gluten free.
b)You can also add roast beef, shredded chicken or lean ham for extra protein.
c)If you don't like or don't have marinated vegetables we used here, you can easily substitute them – eggplant, green or black olives and roasted red pepper work wonderful too.
We hope we quenched your thirst for everything pumpkin here a bit. You also have a great gluten free recipe in your stash now too! As usual it's easy, fast, healthy and nutritious. And of course it's so yummy being totally gluten free! Looking for something Raw and Vegan? Check out our Raw Vegan recipes. Try Sweet Potato, Avocado and Red Cabbage Raw Vegan Wraps next!