Low Carb Pizza Crust With Caramelized Plum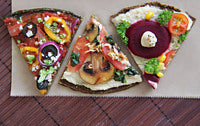 Sticky, golden, sautéed plums steal the show in this rustic pizza recipe that is sure to impress. And our incredible low carb pizza crust makes this meal both healthy and gluten free diet-friendly. Let's take a minute here to find out more about our new line of products – low carb pizza crust:
We added buckwheat, sunflower seeds and carrots into our low carb pizza crust, so it's more flavourful and fills you up faster, but still remains a healthy choice: raw and full of nutritious ingredients.
We designed this low carb pizza crust after our two most popular flavors worldwide: Original and Spirulina.
Our low carb pizza crust has 8 inches diameter so you can make a pizza all to yourself!
We made it thick so it can easily hold any toppings you'd like.
Now let's get back to the recipe!
Serving size: 2 servings
Prep Time: 25 min
Total time: 30 min
For Caramelized Plum, Mozzarella & Arugula Low Carb Pizza you'll need the following ingredients:
3 tbsp olive oil, divided
1 large red onion, thinly sliced
1 tbsp organic unsalted butter
3 plums, pitted and sliced 1/8 inch thick
4 oz fresh mozzarella cheese, thinly sliced
1 cup packed baby arugula
2 Wrawp Original Low Carb Pizza Crust
Directions:
Preheat oven to 350F. In a large, heavy skillet on medium, heat 1 tbsp oil. Add onion and cook, stirring occasionally, until onions are very soft and lightly browned, about 20 minutes. Transfer to a small bowl and set aside.
In the same skillet on medium-high, working in two batches, heat half of butter. Add half of plums in a single layer and cook without stirring, until soft and golden brown, about 2 minutes per side. Transfer to a medium bowl and repeat with remaining half of butter and half of plums; set aside.
Top each Wrawp Original Low Carb Pizza Crust with caramelized onions, plums and cheese. Place into oven and bake until cheese is melted, 3 to 5 minutes. Remove from oven and top with arugula.
That's it! Easy, isn't it? And so good! Try out our other low carb pizza crust recipes, like Lemon-Ricotta Herb Gluten Free Pizza or Broccoli-Tomato Healthy Pizza