Broccoli-Tomato Healthy Pizza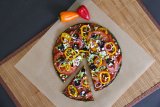 This rustic healthy pizza will make a perfect starter dish or a savory snack. This recipe features our new product, Wrawp Spirulina healthy pizza crust. Let's take a closer look at it first:
We added carrots, buckwheat and sunflower seeds into our healthy pizza crust, so it's more filling and flavorful and still a healthy choice.
We designed this healthy pizza crust after our two most popular flavors worldwide: Original and Spirulina. Don't worry, we didn't take anything that you love in them, we just added more flavors in!
Of course our healthy pizza crust is still organic, raw, vegan and gluten free diet friendly.
Our healthy pizza crust has 8 inches diameter so you can create a pizza all to yourself!
We made it thick so it can easily support any toppings you'd like.
We are really delighted with our new product and trust us you won't regret trying it yourself! Back to the recipe now!
Serving size: 2 servings
Prep Time: 25 min
Total time: 25 min
For Broccoli-Tomato Healthy Pizza you'll need the following ingredients:
4 plum tomatoes, halved and seeded
3 cloves garlic, sliced
1 Tbs. chopped fresh oregano
4 cups broccoli florets
1/2 small onion, sliced (1/2 cup)
4 tsp. olive oil
2 Wrawp Spirulina healthy pizza crust
1/4 cup prepared pesto
1/2 cup shredded fontina cheese
Directions:
Preheat oven to 450°F. Line baking sheet with foil. Place tomato halves cut side up on baking sheet. Insert 2 slices of garlic in each tomato half; sprinkle with oregano. Roast 30 minutes.
Toss together broccoli, onion, and oil in baking dish. Roast 20 minutes, or until tender. Cool 10 minutes.
Spread pesto on each Wrawp Spirulina healthy pizza crust, sprinkle with cheese. Top with vegetables, leaving 2-inch rim. Reduce oven temperature to 375°F; bake for 3-5 minutes, or until cheese is melted.
Serving/storing tips:
Cool, wrap in foil, and refrigerate up to 2 days, or freeze 1 month. Reheat 15 minutes at 350°F before serving (thaw first if frozen).
Done! Interested in more? Try out our other recipes, like Caramelized Plum, Mozzarella & Arugula Low Carb Pizza or Lemon-Ricotta Herbed Gluten Free Pizza