Lemon-Ricotta Herbed Gluten Free Pizza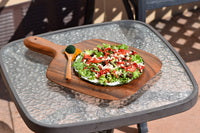 A light layer of creamy ricotta sprinkled with fresh herbs dresses up our incredible Wrawp Original gluten free pizza crust in this great as starter/lunch/snack recipe. Lemon juice and rind add just the right flavor lift.
Let us introduce our new line of products – gluten free pizza crust:
We designed gluten free pizza crust after our two most popular flavors worldwide, Original and Spirulina. Don't worry, we didn't take anything that you love out, we just added more flavor in! Like sunflower seeds, buckwheat and carrots, so there is more flavor and nutrition for you!
Of course our gluten free pizza crust is still raw, organic, vegan and all over healthy and we are still paleo friendly.
Our gluten free pizza crust is 8 inches in diameter so you can create your own variety of pizza and keep it all to yourself!
We make gluten free pizza crust thick so it can support whatever toppings you wish!
So go ahead and give our gluten free pizza crust a try! Your taste buds won't regret it! Now back to the recipe.
Serving size: 2 servings
Prep Time: 25 min
Total time: 25 min
For Lemon-Ricotta Herbed Gluten Free Pizza you'll need the following ingredients:
1/2 cup part-skim ricotta cheese
1 tablespoon grated fresh pecorino Romano cheese
2 tablespoons extra-virgin olive oil
2 teaspoons grated lemon rind 1 tablespoon fresh lemon juice
1/4 teaspoon kosher salt
2 Wrawp Original Gluten Free Pizza Crust
1 tablespoon chopped fresh chives
1/4 teaspoon freshly ground black pepper
Directions:
Place a large cast-iron skillet in oven; preheat oven to 400°.
Combine first 6 ingredients in a small bowl. Spread ricotta mixture evenly over each Wrawp Original Gluten Free Pizza Crust, leaving a 1/2-inch border around the edges. Place crust on preheated cast-iron pan.
Bake in the center of the oven at 400° for 5 minutes or until crust is crisp. Place crust on a cutting board. Sprinkle evenly with chives and pepper; cut into 16 pieces. Serve warm or at room temperature.
Here you go, another incredibly easy and mouth-watering recipe in your collection. Want more? Try out our other pizza recipes, like Broccoli-Tomato Healthy Pizza or Caramelized Plum, Mozzarella & Arugula Low Carb Pizza