Spicy Vegan Wraps With Tangy Almond Sauce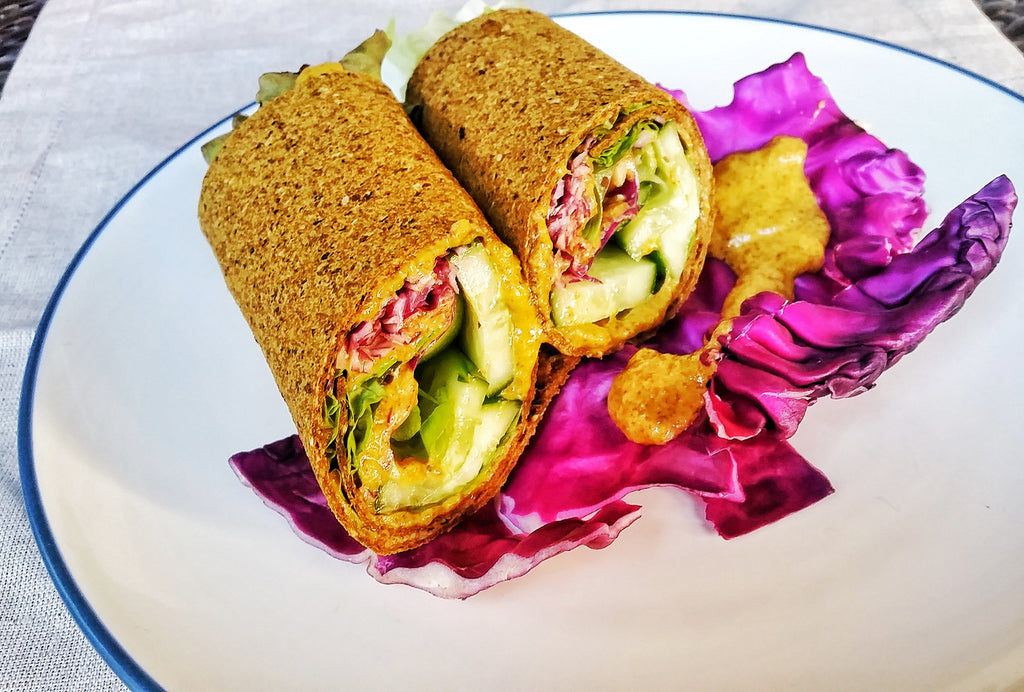 This raw vegan wrap recipe tastes just as good as it sounds. Both savory wraps and sweet wraps, it is such a perfect meal that covers all of the different flavors. And it leaves nothing to be yearned for! These are perfect for lunch, dinner, or snack. Importantly, these wraps are incredibly packed with nutrients. I used the leftover sauce for salad dressing and as a dip later. Lesson: make a ton extra!
Spicy Vegan Wraps With Tangy Asian-Inspired Almond Sauce
Prep Time: 20 Min 
Serves 3
For The Sauce
2 garlic cloves
2 cups chopped bell pepper (red, orange, or yellow)
2 tablespoons almond butter
1 tablespoon tamari
1 tablespoon lime juice
2 tablespoons coconut sugar
1 tablespoon chia seeds
Veggies
2 lettuce leaves
1 yellow bell pepper
1/8 red cabbage, finely chopped
1 green onion
1 Persian cucumber
Wrap
For The Sauce
1 Blend all ingredients in a high speed blender until completely smooth.
To Assemble
1 First, chop all veggies to your liking.
2 Next, place a dollop of sauce about 1 inch from the beginning of the wrap along the width side. Fill about 1/3 of the wrap with sauce, and place all of your veggies on top of the sauce. Then roll like you would a sushi roll - tucking and rolling.
3 Lastly, slice in half with a very sharp knife.
Notes
This recipe was provided by amazing Marina Yanay-Triner, certified health and nutrition coach.
Marina Yanay-Triner of Soul in the Raw is a certified health and nutrition coach. She specializes in raw veganism, and coaches one on one as well as teaches raw vegan classes in San Diego. Her goal is to show people how easy raw veganism can be, and how fun and creative it is to add more raw foods to their lifestyles. She began her raw vegan journey as a result of a powerful healing story in her family, and discovered her own body and a new connection to herself in the process. Click herefor instant access to Marina's free guide + recipes: 10 Foods we should eat Every Single Day.