Gluten Free Pizza Crust with Toasted Cumin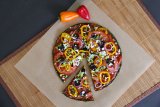 Serves 6!
This recipe features our Spirulina Gluten-Free Pizza Crust. Generous amounts of toppings makes this a fork-and- knife pizza. You can save leftover cabbage for sandwiches.
Serving size: 3 servings
Prep Time: 20 min
Total time: 30 min
For Chickpea and Red Cabbage Gluten Free Pizza with Toasted Cumin you'll need the following ingredients:
1 1/2 Tbs. olive oil, divided
6 cups red cabbage, thinly sliced
¼ cup balsamic vinegar
2 Tbs. honey
2 tsp. whole cumin seeds
1 large peeled clove garlic
1/4 tsp. salt
1 1/2 cups cooked chickpeas, or 1 15-oz. can chickpeas, drained, liquid reserved, divided
1/2 tsp. ground black pepper
4 Tbs. chopped cilantro, divided
3 Spirulina Gluten Free Pizza Crust
4 oz. chilled soft fresh goat cheese, crumbled
Directions
1.Position the rack just below the center of the oven. Place a large rimmed baking sheet on the rack and preheat to 450°F.
2.Heat 1 Tbs. oil in a large skillet over medium heat. Add cabbage and toss to coat. Add vinegar and 1/4 cup water. Bring to simmer. Cover, and cook 15 minutes, or until cabbage is just tender. Remove from heat, stir in honey, and season with salt and pepper, if desired.
3.Toast cumin in a small skillet over medium heat 3 to 4 minutes, or until seeds get darker and very fragrant. Cool. Grind in spice grinder or coffee grinder.
4.Drop garlic and salt into food processor while running, and finely chop. Add 1 1/4 cups chickpeas, 1/4 cup water or reserved chickpea liquid, 1 1/2 tsp. cumin, and pepper. Blend to coarse puree. Transfer to bowl, and mix in 3 Tbs. cilantro.
5.Brush tops of Gluten Free Pizza Crusts with remaining 1 1/2 tsp. oil. Heat heavy skillet over high heat. Add 1 crust, oiled side down, to skillet. Cook 2 minutes, or until crisp on bottom, pressing flat with spatula. Repeat with remaining crusts.
6.Spread chickpea puree on crisp side of each Gluten Free Pizza Crust leaving 1/2-inch border. Top each with 2/3 cup red cabbage, then dot with cheese. Press remaining 1/4 cup whole chickpeas into topping. Sprinkle each pizza with large pinch of remaining 1/2 tsp. cumin. Transfer pizzas to baking sheet with spatula, and bake 6 to 8 minutes, or until toppings are heated through. Sprinkle with remaining 1 Tbs. cilantro.
Now you have a perfect dish for lunch or dinner and some leftovers for sandwiches for tomorrow! Looking for more? Check out our other Gluten Free Pizza Crust recipes, like Lemon-Ricotta Herbed Gluten Free Pizza or Caramelized Plum, Mozzarella & Arugula Low Carb Pizza