Chipotle Shrimp Paleo & Gluten Free Wraps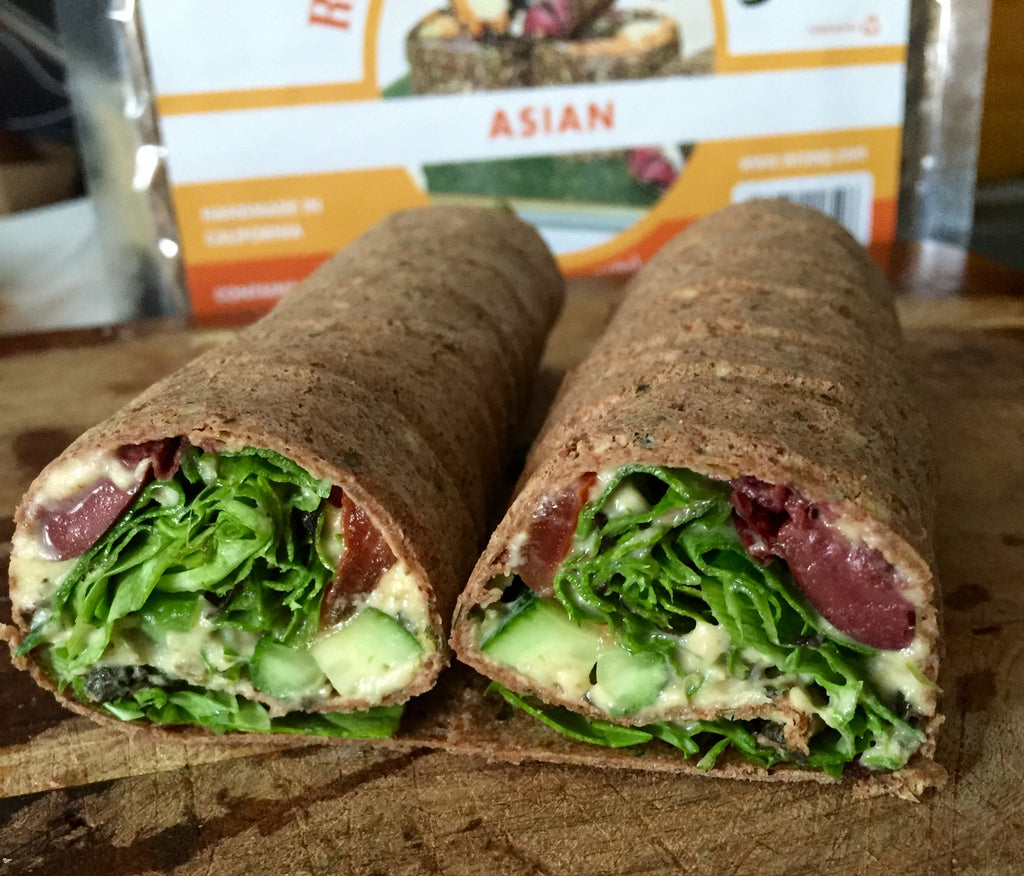 This quesadilla-style recipe features our Spirulina Wrap and who doesn't love shrimps or chipotle?! Let's get to it!
Serving size: 4 servings (plus 1 1/2 cups salsa for leftovers)
Prep Time: 35 min
Total time: 50 min (plus soaking time)
For Chipotle Shrimp Paleo & Gluten-Free Wraps you'll need the following ingredients:
4 tomatillos, husked
2 cups seeded and diced tomatoes
1/4 cup diced red onion
1 tbsp. seeded and chopped jalapeno chile pepper
1/4 cup chopped fresh cilantro
4 tbsp. fresh lime juice, divided
3 1/2 tsp extra-virgin olive oil, divided
1/4 tsp. each sea salt and ground black pepper
2 cloves garlic, minced
3/4 lb. raw frozen and thawed small shrimp, rinsed
3/4 tsp. chipotle chili powder
1 cup cooked black beans
4 Spirulina Wrawp Healthy Wraps split in halves
1 avocado, peeled, seeded and chopped
Directions
1.Prepare salsa: In a pot of boiling water, add tomatillos and boil for about 30 seconds to 1 minute, until peel starts to separate from flesh. Drain, peel and finely chop. In a medium bowl, combine tomatillos, tomatoes, onion, jalapeno, cilantro, 2 tbsp. lime juice, 11/2 tsp oil, salt and pepper. Stir and set aside.
2.In a large skillet on medium-high, heat remaining 2 tsp. of oil. Add garlic and sauté for 1 minute. Add shrimp, cooking on 1 side for 1 to 2 minutes. Flip over and add remaining 2 tbsp. of lime juice. Sprinkle with chili powder and sauté for another 1 to 2 minutes, until shrimp is opaque throughout. Remove to a cutting board; chop shrimp. Wipe out skillet.
3.In a large bowl, combine shrimp, 1/2 cup salsa and beans.
4.Mist 1 side of 2  Wraps with cooking spray. Heat skillet on medium and place 1 wrap, sprayed side down, in skillet. Spread half of bean mixture over wrap, leaving 1/2-inch space around edges. Place other wrap half, sprayed side up, overfilling. Heat for 2 to 3 minutes, using a spatula to press edges of tortillas together. Carefully flip quesadilla-wrap over and cook other side for 2 minutes. Repeat with remaining wraps and bean mixture.
5.Cut each wrap into 2 wedges. Arrange 4 wedges on each plate and top each serving with 1/4 cup salsa and 1/4 chopped avocado.
Tips and recommendations to make this recipe even better than other wraps recipe:
You can refrigerate 1 serving (4 wedges and 1/4 cup salsa). Additionally, refrigerate 3 1/2-cup portions of Tomatillo-Tomato Salsa.
Now you have a fast, yummy and paleo-friendly meal, so go ahead and enjoy it and our Spirulina Wrawp. Next time you can try our other recipes, like Power-Spiced Chicken Gluten Free Wraps with Collard Greens and Jicama Slaw or Turkey, Corn & Sun-Dried Tomato Wraps!