Spicy Lentil Meatball Vegan Wraps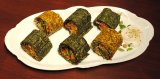 This taco-style recipe has our Spicy Wrawp Vegan Wraps as the star of the dish, plus you'll make lentil meatballs which is mega-fun!
Serving size: 4 servings (plus leftovers)
Prep Time: 25 min
Total time: 45 min (plus soaking time)
For Spicy Lentil Meatball Vegan Wraps with Ume Pepita Cream you'll need the following ingredients:
1 cup unsalted pepitas
5 tbsp. fresh lime juice (about 3 limes)
1/4 tsp. coarse sea salt
1 1/2 cups lentils, rinsed
2 1/2 cups vegetable broth
1 bay leaf
2 tsp. olive oil spread
1/2 cup finely chopped carrot
1 3/4 cups finely chopped yellow onion, divided
2 cloves garlic, minced
2 eggs
3/4 cup old-fashioned rolled oats
1/2 cup chopped fresh cilantro leaves, divided
1 tbsp. chili powder
1 tsp. ground cumin
1/4 tsp. ground cayenne pepper
4 Spicy Wrawp Vegan Wraps, split in halves
1/2 cup chopped avocado
1/4 cup chopped tomatoes
Directions
1.In a bowl, soak pepitas in water for 3 hours; drain. In a blender, combine pepitas, 1 cup water, lime juice and salt. Blend until mixture is the consistency of cream.
2.Preheat oven to 400°F. In a medium saucepan, bring lentils, broth and bay leaf to a boil. Reduce heat to medium-low and simmer for 20 minutes. Drain and transfer to a large bowl; discard bay leaf.
3.In a medium skillet on medium-high, heat oil spread. Add carrot and 1 1/2 cups onion and sauté for 3 minutes. Add garlic and sauté for 2 minutes more. Add to bowl with lentils. To bowl, add eggs, oats, 1/4 cup cilantro, chili powder, ground cumin and cayenne. Stir until well combined.
4.Line a large baking sheet with parchment paper. Using wet hands, shape mixture into 2-inch balls, making 18 balls total. Place on baking sheet. Bake for 18 to 20 minutes.
5.Slice 12 lentil balls in half (reserve remaining 6 for use later). Place 3 lentil ball halves on each of 8 pieces of Spicy Wrawp Vegan Wraps. Top each wrap with 1 1/2 tbsp. pepita cream. Divide avocado, tomato and remaining 1/4 cup each onion and cilantro over wraps.
Tips and recommendations to make this recipe even better than other vegan wraps recipe:
You can refrigerate leftover ingredients to make 1 serving of 2 vegan wraps, plus refrigerate an additional 6 lentil balls and 1/2 cup pepita cream. Reserve 1/2 tsp. lime juice and use when called for.
That's it! Enjoy our Spicy Wrawp Vegan Wraps in full with this great meal. Want more? Go to our other recipes, like Creamy Avocado & White Bean Paleo Tortillas or Curried Chicken Apple Organic Gluten Free Wraps. We have a recipe for everyone!