Crunchy Hawaiian Chicken Gluten Free Wraps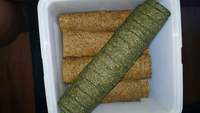 Bored of ordinary  wrap recipes? Are you kids unwilling to eat healthy dishes? 
Here's the remedy! Crunchy Hawaiian Chicken Gluten Free Wraps are deliciously crunchy with a refreshing hint of tropical sweetness that kids find irresistible. This appealing main dish combines seasoned chicken, sweet pineapple, and crunchy shredded vegetables, topped with a delicious poppy seed dressing all wrapped in our Original Wrawp wheat-free wraps. It is the best solution for you and your kids to get yummy, healthy, gluten-free wraps that will satiate you and bring you joy!
Serving size: 6 servings
Prep Time: 20 min
Total time: 20 min
For Crunchy Hawaiian Chicken Gluten Free Wrap you'll need the following ingredients:
1⁄4 cup Light mayonnaise
1/2 cup White vinegar
1⁄4 cup Sugar
1 tsp Poppy seeds
1 1⁄2 tsp Garlic powder
1 1⁄2 tsp Onion powder
1 1⁄2 tsp Chili powder
2 cups Fresh broccoli, shredded
1 1⁄2 cups Fresh carrots, peeled, shredded
1⁄4 cup Canned crushed pineapple, in 100% juice, drained
1 cup Fresh baby spinach, chopped
3 cups Cooked diced chicken, 1⁄2" pieces (12 oz)
6 Original Wrawp wheat free wraps
Directions
In a small mixing bowl, combine mayonnaise, vinegar, sugar, poppy seeds, garlic powder, onion powder, and chili powder for the dressing. Mix well. Cover and refrigerate.
Combine broccoli, carrots, pineapple, and spinach in a large bowl. Stir in dressing and chicken. Mix well. Serve immediately or cover and refrigerate.
For each Original Wrawp wheat free wrap, place 1/2 cup filling on the bottom half of the tortilla and roll in the form of a burrito. Place seam side down. Cut diagonally. Serve immediately.
Tips and recommendations to make this recipe an even better gluten free wrap recipe:
Filling may be made up to one day in advance.
Assemble wraps when ready to serve.
That is it! As usual, fast and easy steps lead to a delicious healthy meal! Want more? Check out our other recipes, like Asian Mango And Tofu Vegan Wraps