Mexican Confetti Chicken Paleo Tortillas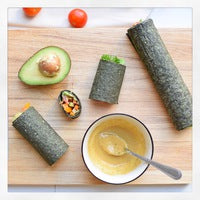 Mexican food is famous for its delicious spiciness and colorful look. This raw tortilla recipe is no exception. Bell peppers with spices, beans, and chicken create that unique savory taste that makes Mexican cuisine so popular. And, of course, this recipe features our gluten free tortillas, Spicy Wrawp. So let's get cooking!
Serving size: 6-8 servings
Prep Time: 20 min
Total time: 30 min
For Mexican Confetti Chicken Paleo Tortillas you'll need the following ingredients:
1 tablespoon canola oil
1 large orange bell pepper, finely diced (about 1 1/2 cups)
1 pound skinless, boneless chicken breast halves, sliced into thin strips
1/2 to 1 teaspoon ground cumin
1/2 to 1 teaspoon chili powder
One 15 1/2-ounce can pinto beans, drained and rinsed
1 cup frozen corn kernels, thawed
1 cup pre-shredded reduced-fat Cheddar cheese
3/4 cup salsa
Six to eight Spicy Wrawp gluten free tortillas
1/2 cup reduced-fat sour cream, optional
Directions
Heat the oil in a large nonstick skillet over medium-high heat. Add the bell peppers and cook, stirring frequently, until tender, about 5 minutes.
Add the chicken, cumin, and chili powder and cook until the chicken is no longer pink, 4 to 5 minutes. To test chicken: cut a small slice. If the liquid that comes out is clear (or no liquid comes out) it's good to go!
Stir in the beans, corn, cheese, and salsa and cook until the mixture is heated through and the cheese is melted, about 2 minutes.
Meanwhile, stack Spicy Wrawp paleo tortillas on a microwave-safe plate, uncovered, and heat in the microwave until warmed through, 30 to 45 seconds.
Assemble by placing the chicken mixture down the center of each paleo tortilla.
Wrap burrito style and serve with sour cream as desired.
Tips and recommendations to make this recipe even better than other raw tortillas recipes:
You can choose your favourite kind of beans in this raw tortillas recipe, it's flexible!
These paleo tortillas should be served warm, but you can prepare the chicken mixture without cheese ahead of time and then just warm it with the cheese later!
So now you have another yummy recipe in your armory. You can use it for lunch or dinner and stay healthy!