Italian Style Hummus Gluten-Free Pizza Crust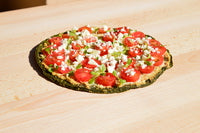 The good news is that pizza doesn't have to be an unhealthy. Using WrawP  Spirulina Pizza Crust you will get 100% Organic, Raw, Paleo and Gluten-Free Pizza with plenty of healthy ingredients! Our Gluten-free pizza tastes so good that your friends and family will be begging you to make Our Pizza Crust instead of regular pizza.
Ingredients:
Hummus
Bruschetta
Tomato
Sunflower Sprouts
Spread hummus and bruschetta on top of the pizza, put tomato and sunflower sprouts on top. Ready to eat , enjoy.