Great Paleo Pizza Crust With Marinara Sauce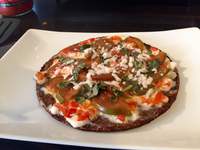 You don't want to have to give up pizza just because you've gone Paleo? No worries, our Original Pizza Crust is absolutely Paleo pizza with no grains, but plenty of flavor. 100% Gluten-free and Healthy Organic Product! 
Ingredients:
2. Veganese original
3. Marinara sauce
4. Tomato
5. Olives
6. Fresh basil
7. Vegan mazarella cheese
Directions:
1. Spread veganese on top of the pizza, than marinara sauce. 
2. Cut tomato, and olives, put it on top. 
3. Sprinkle with fresh basil and mozzarella. 
4. Put it in the toaster or oven at 250f for 5 min. 
5. Make sure that cheese started melting. 
Take out and enjoy this great Vegan Gluten Free Pizza.