The Best Burrito-Style Low Carb Wraps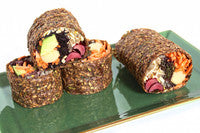 Lunchtime can be prime time for compromising your healthy-eating instincts. We are constantly bombarded with options for midday meals that are fast and cheap and often high in trans fat, sodium, sugar and preservatives, so make your lunch decision before the midday hunger pangs strike. Prepare your favorite bean filling; then sauté red and green bell peppers, onions and jalapenos, and fill our Spicy Wrawp low carb tortillas for a lunch to look forward to. These versatile low carb wraps can be eaten any time of day including breakfast, dinner or at snack time. Let's dive into the details!
Serving size: 10 servings
Prep Time: 30 min
Total time: 30 min
For The Best Burrito-Style Low Carb Wraps you'll need the following ingredients:
2 tsp grape seed oil, divided
1 yellow onion, diced
2 cloves garlic, minced
1 tsp each ground coriander, chili powder and ground cumin
1/2 tsp ground cayenne pepper, optional
2 cups cooked or BPA-free canned unsalted pinto beans, drained and rinsed
1/2 tsp sea salt
1 each green and red bell pepper, julienned
1 jalapeno chili pepper, seeds removed and diced
10 Spicy Wrawp low carb tortillas
2 1/2 cups cooked quinoa or brown rice
Optional Ingredients (to versatile your low carb tortillas to the max!):
2 cups romaine or iceberg lettuce, torn into bite-size pieces
1 cup whole grain of your choice
1/2 avocado, diced
1 beet, grated
1 carrot, grated
5 sprigs cilantro, leaves only
1 green onion, finely sliced
2 tsp hot sauce or salsa
Directions:
In a medium sauté pan over medium-high, heat 1 tsp oil. Add onions, garlic, coriander, chili powder, cumin and cayenne (if using). Sauté for 4 to 5 minutes, until spices are fragrant and onions are soft.
Add beans and saute for another 3 minutes. Incorporate 1/2 cup water and salt. Using a fork or masher, slightly mash beans. Remove from heat.
In a small saute pan over medium-high heat remaining 1 tsp oil. Add green, red and jalapeno peppers and saute until soft, about 4 minutes. Remove from heat.
On a flat surface, fill low carb tortillas each with 1/4 cup bean mixture into the center. Top with 1/2 cup quinoa and a few pieces of the green, red and jalapeno peppers; roll in the form of a burrito. Place seam side down. Cut diagonally if desired.
Plate low carb tortillas on a bed of lettuce or whole grains and top with avocado, beet, carrot, cilantro, green onions and salsa.
Tips and recommendations to make this recipe even better than other low carb wraps recipes:
Prep and freeze burritos for quick, portable lunches or easy dinners:
Prepare 10 medium sheets of foil. (NOTE: Use parchment paper instead of foil if you intend to heat the low carb wraps in a microwave.) Wrap each prepared low carb tortillas in foil (or paper).
Place in a resalable bag. Repeat with remaining low carb tortillas. Label each bag with contents and date, transfer to freezer.
When ready to use, place wrapped low carb tortillas on a baking sheet and place into a 375°F oven. Bake for 25 to 30 minutes. If using a microwave, heat for 3 to 4 minutes on medium-high.