SPICY ASIAN CURRY COCONUT RAW WRAP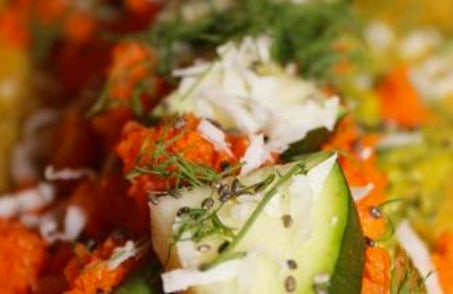 INGREDIENTS
2 LETTUCE LEAVES

1 YELLOW BELL PEPPER (JULIENNED)

1/8 RED CABBAGE (FINELY CHOPPED)

1 GREEN ONION

1 PERSIAN CUCUMBER

2 GARLIC CLOVES

2 CUPS BELL PEPPER (CHOPPED)

2 TBSP. SPROUTED ALMOND BUTTER

1 TBSP. TAMARI

1 TBSP. LIME JUICE

2 TBSP. COCONUT SUGAR

1 TBSP. CHIA SEEDS
DIRECTIONS
Remove 2 Curry Coconut Wraps from the package and lay side by side

In a blender, blend garlic cloves, bell pepper, almond butter, tamari, lime juice, coconut sugar and chia seeds until creamy smooth.

Place a large spoonful of the creamy smooth sauce about 1 inch from the beginning of the wrap along the width side and spread around.

Fill about 1/3 of the wrap with the sauce.

Place the remaining veggies on top of the sauce.

Then roll like you would a sushi roll, tucking and rolling.

Slice in half and be sure to share with friends! Enjoy!
You can also use any wrap from our collections: