RAINBOW PAD THAI RAW WRAPS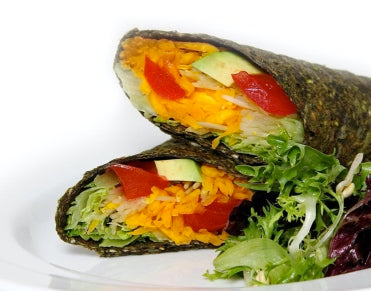 INGREDIENTS
1 GARLIC CLOVE

1/4 CUP RAW ALMOND BUTTER

2 TBSP. FRESH LIME JUICE

2 TBSP. LOW-SODIUM TAMARI

2 TBSP. WATER

2 1/2 TSP. PURE MAPLE SYRUP

1/2 TBSP. TOASTED SESAME OIL

1 TSP. FRESHLY GRATED GINGER

1 MEDIUM ZUCCHINI (JULIENNED)

2 LARGE CARROTS (JULIENNED)

1 RED PEPPER (THINLY SLICED)

1 CUP RED CABBAGE (THINLY SLICED)

3/4 CUP FROZEN EDAMAME (THAWED)

3 GREEN ONIONS (THINLY SLICED)

1 TBSP. HEMP SEEDS

1 TSP. SESAME SEEDS
DIRECTIONS
Remove the Veggie Life Veggie Raw Wraps from the package and lay side by side.

In a bowl, add the zucchini, carrots, pepper, and cabbage. Toss with hands to mix together.

For the dressing, combine the garlic clove, raw almond butter, lime juice, low-sodium tamari, water, maple syrup, toasted sesame oil and freshly grated ginger in a mini processor or simply whisk by hand. (Note:the dressing may seem a bit thin at first, but it thickens as it sits.)

In the 2 wraps, add the mixed veggies you prepared in the bowl. Then top off with the edamame, green onion, hemp seeds and sesame seeds.

Pour on dressing (and keep some to the side for dipping sauce)

Roll the wraps, share with friends and enjoy!