BIG RAW PESTO WRAPS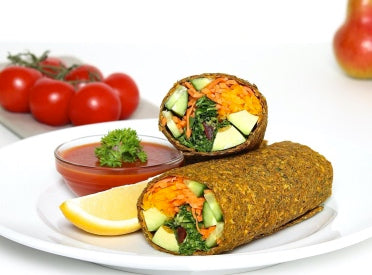 These raw food diet wraps have all you need for perfect healthy dinners and lunches.
INGREDIENTS
2 SHEETS OF ANY OF OUR VEGGIE RAW WRAPS FLAVORS

8 CUPS OF MIXED GREENS

1 TOMATO

1 PERSIAN CUCUMBER

1 AVOCADO

2 CUPS OF SLICED COOKED PUMPKIN

100G BRAZILIAN NUTS OR WALNUTS,

1 CUP OF FRESH BASIL LEAVES,

1/2 CLOVE OF GARLIC

1/4 OF SMALL ONION

1/2 CUP OF WATER

BLACK SALT TO TASTE ( CAN BE SUBSTITUTE WITH HIMALAYAN SALT)
DIRECTIONS
Remove the wraps from the package and place side by side.

Place Brazilian Nuts, Basil Leaves, Garlic, Water, and Salt in a blender and blend until you have a smooth consistency.

Smother this spread all over each wrap.

Add Mixed Greens, Tomatoes, Cucumbers, Avocado and Pumpkin.

Wrap it up and Enjoy! Be sure to share these amazing raw wraps with friends!
See more ideas about Raw Vegan wraps and Raw wraps recipes.