MEXICAN INSPIRED VEGAN PIZZA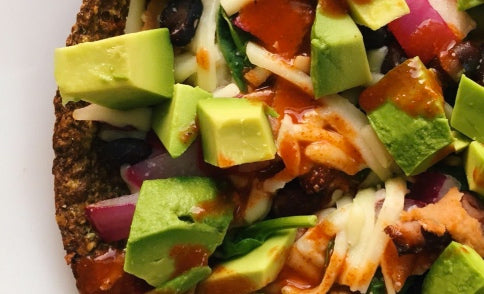 INGREDIENTS
1 AVOCADO SLICED

1/4 CUP VEGETARIAN REFRIED BEANS

1/2 CUP OF VEGAN MOZZARELLA CHEESE

2 SLICES OF RED ONIONS, DICED

1/4 CUP OF BLACK BEANS COUPLE LEAVES OF SPINACH
DIRECTIONS
Preheat oven to 350 degrees Fahrenheit

Spread the vegetarian refried beans all over the Original Wrawp Pizza Crust

Add the toppings: spinach, red onions and black beans

Top off with the vegan cheese (Go ahead - make it super vegan cheesy if you want!!)

Bake in the oven for 10 minutes - 12 minutes (away from heat - top rack is suggested)

Remove from oven and add the sliced/diced avocado and optional: hot sauce of your choice!

Cut into slices and eat all yourself or share with friends! Enjoy!
You can also use choose any of our WrawP pizza crust