Leek and Sun-Dried Tomato Healthy Pizza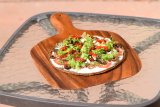 Olive oil in a jar of sun-dried tomatoes is liquid gold in recipes. Here it's used to sauté sliced leeks and dress our Spirulina Wrawp Healthy Pizza Crust in order to get a rich and flavorful dish that you'll come back to time and time again, we're sure!
Serving size: 8 servings
Prep Time: 20 min or less
Total time: 45 min
For Leek and Sun-Dried Tomato Healthy Pizza Crust you'll need the following ingredients:
3/4 cup oil-packed sun-dried tomatoes, drained and chopped, oil reserved
2 medium leeks, thinly sliced (6 cups)
4 Spirulina Healthy Pizza Crusts
3 large eggs
1 cup low-fat ricotta cheese
Directions
1.Preheat oven to 350°F. Coat two deep-dish pie pans with cooking spray.
2.Heat 1 Tbs. sun-dried tomato oil in skillet over medium heat. Add leeks, cover, and cook for 10 minutes, or until leeks are tender, stirring occasionally. Uncover, and cook for 5 minutes more.
3.Place 1 Spirulina Wrawp Healthy Pizza Crust on work surface, and brush with sun-dried tomato oil. Place second Spirulina Wrawp Healthy Pizza Crust on top, and brush with more oil. Repeat with remaining Spirulina Wrawp Healthy Pizza Crusts. Press the crusts into prepared pie pans
4.Whisk together eggs and ricotta cheese. Stir in sun-dried tomatoes and leeks. Season with salt and pepper, if desired, and spread over dressed Healthy Pizza Crust. Bake for 20 to 25 minutes, or until the filling is puffy and top is golden.
This cannot get any better. Enjoy your meal and come back to us for other awesome recipes, like White Bean, Brussels Sprouts and Pomegranate Low Carb Pizza or CARAMELIZED PLUM, MOZZARELLA & ARUGULA LOW CARB PIZZA.