PUMPKIN SPICE CHEESECAKE ENCHILLADA RECIPE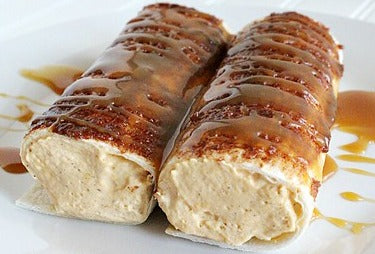 Pumpkin spice season is here and we are pleased to present a great recipe of Healthy PUMPKIN SPICE wraps are loaded with Cream Cheese, Pumpkin and amazing blend of Pumpkin Spice. These tasty wraps come together in under 15 minutes and make a great autumn dessert! 
INGREDIENTS
1 Pkg. (8 oz.) Cream Cheese (Softened)
1 Cup Canned Pumpkin
1/2 Cup Sugar
½ Tsp. Pumpkin Pie Spice
2 ¼ Cups Cool Whip (thawed)
6 Tbsp. Butter (melted)
2 Tsp. Sugar
2 Tsp. Cinnamon
3 Packs Betsy's Best Itsy Bitsy Cinnamon Nut Butter
DIRECTIONS
In a large bowl, beat the cream cheese, pumpkin, sugar and pumpkin pie spice with electric mixer on medium speed until well blended.
Gently stir in the whipped topping.
Then remove Pumpkin Spice Coconut Wraps from the package and lay flat (shiny side facing down).
Divide the cream cheese mixture evenly between the wraps. Roll each wraps up and put on serving plates.
In a small bowl, combine the butter, sugar and cinnamon.
Brush the mixture over the rolled coconut wraps. Then top with Betsy's Best Cinnamon Nut Butter.