HAWAIIAN PORTOBELLO VEGAN WRAPS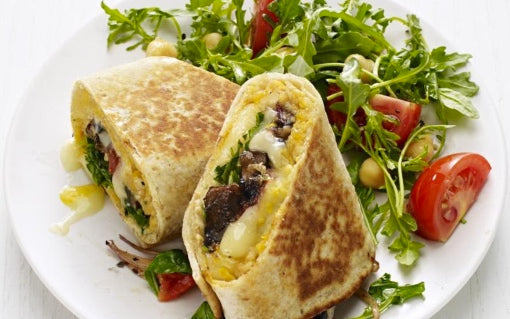 INGREDIENTS
2 COCO NORI ORIGINAL COCONUT WRAPS

2 PORTOBELLO MUSHROOM CAPS

1 LARGE VIDALIA ONION (CHOPPED)

2 CLOVES GARLIC (MINCED)

1 TBSP. SOY SAUCE

1 TBSP. MAPLE SYRUP

4 PINEAPPLE RINGS

SALT PEPPER
DIRECTIONS
With a small spoon, remove the ribs from the mushroom caps.

Then wash the caps under cool running water and pat dry.

Spray a pan with cooking spray.

Place the onions and garlic in the pan and saut

é

the onions until they start to become translucent. (Note: As you cook the onions throughout the recipe the volume of the onions will decrease, so don't be afraid to use a lot of onion to start!)

Add the soy sauce and the maple syrup to the onions, mixing well until the sauce mixture becomes thick.

On the side, sprinkle the portobello caps with some soy sauce and salt & pepper.

Place the portobello caps on the grill and grill for about 3-4 minutes on each side.

For the last 3-4 minutes, place the pineapple rings on the grill to warm them up and caramelize slightly.

Lay out the Coco Nori Coconut Wraps, and add the onion mixture, mushroom caps and pineapple slices to each Wrap.
Roll up and enjoy with yourself or share with a friend!
*If you prefer, you can toast the
coconut wraps
in a pan after rolling for a slightly crisp, golden brown touch! So Yum!