GLUTEN-FREE WRAP EGG ROLLS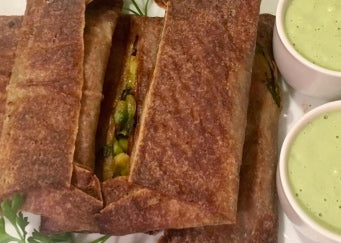 INGREDIENTS
3 AVOCADOS HALVED, PEELED AND SEEDED

1/2 CUP TOMATOES, DICED

1/3 CUP DICED ONION

VEGETABLE OIL

2 TABLESPOONS CHOPPED FRESH CILANTRO LEAVES

FRESH SQUEEZED JUICE OF 1 LIME

FOR THE CILANTRO DIPPING SAUCE

1/2 CUP FRESH CILANTRO LEAVES, LOOSELY PACKED

1/4 CUP OF WATER

1/2 A CUP OF CASHEWS

JUICE OF 1 LIME

1 CLOVE GARLIC

1/4 CUP OF CHOPPED ONION

SALT AND FRESHLY GROUND BLACK PEPPER TO TASTE
DIRECTIONS 
Cilantro dipping sauce:

combine cilantro, water, cashews, onion, garlic and lime juice in a food processor or blender; season with salt and pepper to taste. Set aside.

Pre-Heat Oven to 350 F

Line a baking sheet with vegetable oil

In a medium bowl, gently mash avocados using a fork.

Gently toss in the diced onions, tomatoes cilantro, lime juice, salt and pepper.

Working one at a time, place avocado mixture in the center of each wrap. Bring the bottom edge of the wrap tightly over the filling, folding in the sides. Continue rolling until the top of the wrap is reached.
Using your finger, rub the edges of the wrap with water, pressing to seal. Repeat with remaining wraps until your done.

Place egg rolls on baking sheet and cook for 1-3 minutes or until golden brown.

Serve immediately with dipping sauce.

Share with your friends and Enjoy!
You can also use any gluten-free wrap from our collections: