Coconut Wraps: the new healthy tortillas alternative!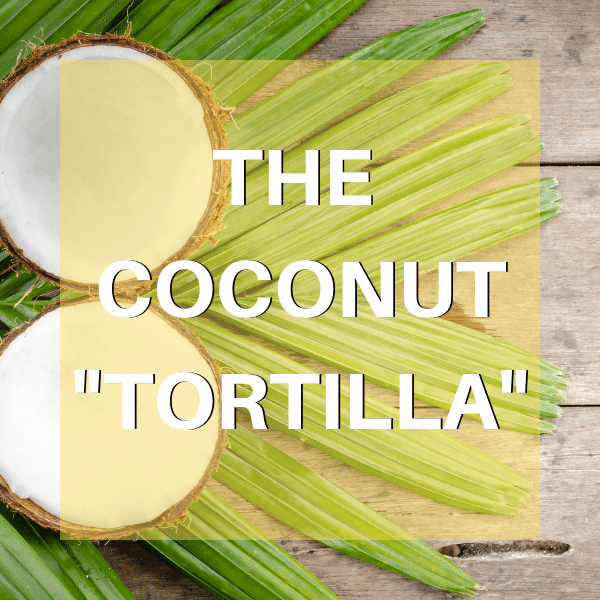 Coconut Wraps: say goodbye to traditional tortillas!
While eating healthier can at times seem like a daunting challenge, there is a new "tortilla" that is becoming increasingly popular. A scrumptious alternative to the traditional corn and flour tortillas, Coconut Wraps are the go-to healthy alternative for those who are looking to reduce or eliminate the intake of flour, wheat, grains, etc. They make it easy to enjoy a great tasting, and guilt-free (oh and wheat-free, flour-free, gluten-free), meal or snack.
So why all of a sudden have coconut wraps found its place in popularity finding their way onto store shelves and into lunch boxes, dinner plates and grab-n-go meal boxes? Well firstly, they are made from Organic Coconut Meat. Regular organic coconut meat is not as healthy as Young Coconut Meat, so be sure to know what kind of coconut is being used in the wraps you are purchasing. Also, some coconut wraps are made with coconut water, and/or coconut oil – so be careful with these too, as their shelf life may be shortened and the taste may not seem as natural with those coconut wraps which are coconut water and coconut oil free. Coconut Wraps are the perfect diet approved tortilla for those who follow a Vegan, Vegetarian, Paleo, Keto or Gluten-Free/Wheat-Free diet. Coconut Wraps are also considered a safer option for anyone with food allergies or sensitivities.
Coconut Wraps are much more than just a healthy alternative. They are also scrumptiously versatile. Coconut wraps are perfect for sandwiches, tacos and burritos, and deserts. They are also perfect for sushi rolls and ice cream cones (Really!) The mild coconut flavor does not overpower and perfectly complements, fillings ranging from avocado to peanut butter. Both savory and sweet. And the fibrous strength of the coconut meat actually makes the wraps more flexible and durable than most breads or tortillas.
What's all this Coconut Wrap Health Hype About?
You can find coconut wraps that are purely made with just a couple ingredients are made exclusively from 2 simple ingredients: organic young coconut, and organic psyllium husk. Some variations also include just a drop of coconut nectar as well.
The facts are simple. Coconut wraps are packed full of beneficial nutrients that help strengthen and protect your heart and power your immune system. WrawP Coconut Wraps, one of the healthier coconut wraps on the market are made from a Nam Hom Young Thai coconut meat, a variety of coconut from Thailand, which is renowned around the world for both its taste and nutritional value.
The meat of a coconut is the rich white lining within the outer shell of a coconut. This can either be juicy and tender or slightly thick and crunchy. A cup of the raw white coconut meat contains around 283 calories with over 37 grams of water per 1-cup
serving; most of which comes from its 26 grams of fat. Compared to other plant-based foods, young coconut meat contains a large amount of saturated fat, around 24 grams of it per cup. However, unlike other saturated fats, which are long-chain fatty acids, most of the fatty acid found in coconut nori wraps is lauric acid, a healthy fat medium-chain triglyceride. These medium-chain fatty acids are digested differently; broken down much faster within the body, and therefore do not contribute as much to a higher cholesterol. 
 The Power of The Coconut
One of the many benefits of young coconut meat is its high fiber content. One cup contains over 7 grams of fiber, more than 20% of the recommended daily amount. Fiber assists the digestion process in pushing waste through the digestive tract. It also contributes to a feeling of fullness, which can assist in weight loss.
Another vital trace mineral component of coconut meat is manganese. Manganese can strengthen bone health, has strong antioxidant properties, helps reduce inflammation, and can help your body metabolize both fat and protein easily. Manganese also supports both immune and nervous systems, helping to protect the brain against free radicals, and can promote a stabilized blood sugar level.
Coconut meat also appears to have properties that help prevent heart disease and stroke, possibly even preventing the onset of neurological diseases. Coconut contains a healthy dose of vitamins A and E, and polyphenols and phytosterols that work together to decrease the level of LDL cholesterol. LDL cholesterol consists of fats that stay in the blood and skin. High levels of LDL cholesterol have been directly linked as a risk factor for cardiovascular disease.
This heart health enhancing property of coconut meat could be the driving reason behind the low-to-almost-no reported incidence of heart disease or stroke amongst New Zealand and New Guinea indigenous tribal populations, amongst whom coconut is a staple food.
Coconut wraps also are also a significantly better source of iron than bread or tortillas. Iron is essential to healthy blood and keeping the body properly oxygenated. 
Join the Coconut Wrap Crave Today!
So what should you take away from this? (1) Coconut Wraps are a much healthier alternative to bread and traditional tortillas. (2) They are an ideal replacement for sandwiches, crepes, tacos, burritos, or toast. (3) The versatile flavor profile of coconut wraps can go with anything from savory to sweet meals or snacks. (4) They're so comparatively low in carbs, so they have very little impact on blood sugar levels, making them ideal for Paleo, Keto, Gluten-Free and Diabetic diets. And (4) bodybuilders and athletes also love this superfood, as they offer a carb-like burst of energy, only without the glycemic spike.
Final Coconut Wrap Suggestions:
Do note that some coconut wraps tend to burn quickly, so low heat is always recommended or a drop of oil in a frying pan to slow heat them for a more golden brown wrap. It is recommended to buy coconut wraps that have a 12-month shelf-life and do not require refrigeration or freezing!