Clean Foods Shopping Tips! Are the products you buy really "Healthy" or Healthy?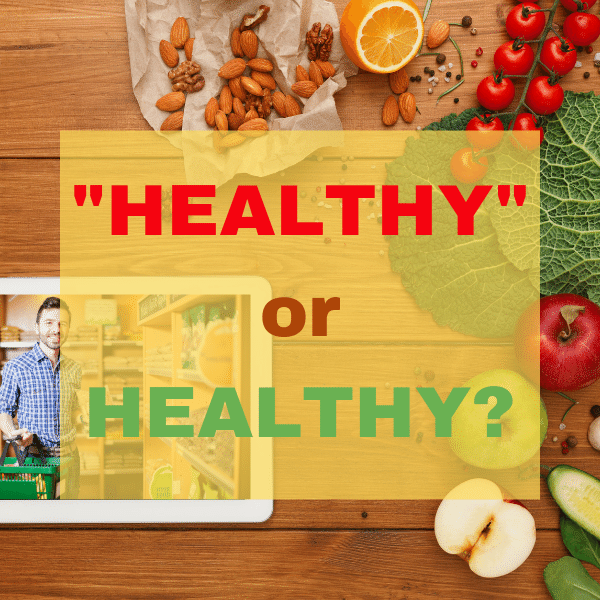 IS THE FOOD YOU'RE BUYING "HEALTHY" OR HEALTHY?!
There is a plethora of aggressive and visually enticing marketing tactics that many food manufacturing companies use to market their food products as "healthy" and gluten-free. But are they really? A lot of organic foods are marked up in price,
so you are paying a premium price for claims that these products are healthy, organic and gluten-free. But, again, are they really? So how do you know you are getting your money's worth and more importantly the food you are buying genuinely is healthy? It is crucial to know what you're buying and putting into your body, especially if you're living with any special dietary requirements (like Vegan, Paleo, Keto, or a Diabetes-related, or gluten-free diet).
Here are some key steps you can take to verify that the marketing call-outs on food packaging are truly accurate. First (and the most obvious) is to check the list of ingredients. You really should be keeping an eye on the ingredients of any food products you buy, but this is doubly true of food marketed as organic or healthy! Generally, less is more; the fewer ingredients involved, the more likely your food or drink could really be healthy. And can you readily recognize, and pronounce, every listed ingredient? Could you purchase all, or most, of the ingredients listed at your local grocery store? Also, ingredients are listed in order of the most used, so make certain the healthiest ingredients are amongst the first listed.
See this side by side comparison of two different healthy wraps. You might be enticed to purchase the "BE FREE" wraps simply because of the big words "BE FREE"! But, flip the product package over and looking more closely at the ingredients – and now compare to the Wrawp Original Veggie Wraps ingredients . . . Hmmmmm . . .   BIG Difference!
Almost as important is to look at the serving size, generally printed at the top of any food label. This is a measurement, not a recommendation or suggestion, and will indicate the amount of food that the nutritional information is based off of. Great sounding nutritional information is pretty much meaningless if the serving size it is based off is unrealistically small. It's important to establish and consider nutritional information based on the amount of the product you will consume in a meal, or one sitting. 
At this point, pretty much everyone should know of the importance of limiting their fat intake. It's doubly important to limit your consumption of, or completely avoid, food products with saturated or trans-fat. If your food or drink contains monounsaturated fatty acid, a healthier type found in natural foods including avocados, olive oil, and certain nuts. Properties of monounsaturated fats may help reduce risk factors for heart disease. Also, there are studies that indicate eating more monounsaturated fats can actually help you with weight loss, as long as you aren't consuming more calories than you are burning.
Another significant "tell" as to the healthy-ness of a food or drink is to look for the sodium content. You'll very much want to avoid products with added salt, as this can increase your risk levels for high blood pressure, diabetes, and chronic kidney disease. The recommended amount of sodium is 2,300 milligrams per day. If you are already on a salt-restricted diet, or over 50, you'll want to stay under 1,500 milligrams of sodium per day. Aside from "salt" or "sodium", you'll want to watch out for additional ingredients, including Monosodium Glutamate, baking soda, baking powder, Disodium Phosphate, Sodium Alginate, and Sodium Nitrate or Sodium Nitrite.
Total sugar content, and the type of sugar contained, is also extremely important. The less sugar contained in your food or drink, will obviously be better for you. Nutrition labels generally will not distinguish between naturally occurring and added sugars, so you will want to watch for processed forms of sugar. Natural sweeteners including fruit, honey, or dates are preferable. Try your very best to avoid corn syrup, cane sugar, and any other complex ingredient ending in "-ose." When in doubt about the real value of a food or drink marketed as healthy, it never hurts to ask health experts you interact with (in real life or online), for their opinion.
Your doctor, nurse, trainer or health club staff, or online community dedicated to your particular dietary restrictions (be they vegetarian, vegan, keto, paleo, athletic performance, or health maintenance) could all provide valuable input as to whether the you're getting your money's worth out of a product. The Superfood Goddess (Stephie B.) is a great resource who is dedicated to quality of clean foods in the market, so add her to your resources.
Definitely be wary of marketing buzzwords, and difficult to verify claims on product packaging. Phrases like fat-free or all-natural or no added sugar can all sound great, but when there is little to no regulation around them. These phrases aren't terribly informative, and the product might not actually be healthy at all. Much more reliable are legally enforced terms, like USDA Certified Organic, or whether the product claims to be in compliance with specific dietary requirements, like Vegan or Paleo. Also, check to see if the food manufacturing company is transparent about the process in which they make their foods? Are they processed or are they truly using whole foods which used to hand-make their food products.
Above all else, choosing an unprocessed food, or the closest to unprocessed food available to you, will ensure that you are eating healthier. When you have access to fruit or vegetables in their natural state, consider yourself blessed, and enjoy them! Remember. Wrawp Wraps are all hand-made from 100% USDA Organic, farm-fresh whole vegetables and fruits and superfood spices. The cleanest food products on planet earth.