Eat The Rainbow! What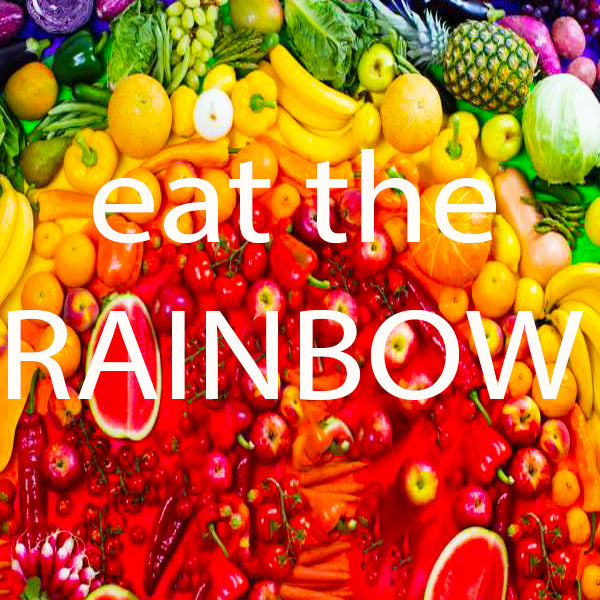 What are Phytonutrients?
Phytonutrients are amazing compounds, responsible for both the rich, vibrant colors of plants, and their distinctive tastes and aromas. Phytonutrients also strengthen plants' immune systems, protecting them from environmental threats including disease and excessive sun. A healthy diet including a variety of colorful fruits and vegetables can be extremely beneficial to humans, sharing the unique benefits of these Phytonutrients with our own immune systems.
When our diet contains a colorful array of fruits and veggies, these Phytonutrients can provide additional protection against chronic disease. Phytonutrients have powerful anti-cancer anti-heart disease properties. Epidemiological research has shown a plant rich diet offers protection against cardiovascular disease, and certain types of cancer.
The correlation between Phytonutrient consumption and health benefits is strong enough that the American Cancer Society actively recommends 2 ½ cups of fruits and vegetables, every day, based on a 2000 calorie diet.
It's easy to begin taking advantage of these powerful effects; just include as many color-rich fruits and vegetables in your meals and snacks, as possible. Each specific color is caused by specific phytonutrients, and each color provides unique specific health benefits. No one color dominates in importance, though. All are important, so it's vital to work a balanced array of all colors into your diet.
To get the most phytonutrients, make sure to eat the colorful skins of your produce! This is the richest source of phytonutrients, so you'll want to avoid peeling those apples, eggplants, tomatoes, and radishes, or you'll miss out.
Here's a checklist of fruit and vegetables broken out by color groups, along with their specific phytonutrient content, and what produce you can find them in.
Red:  
The phytonutrient Carotenoid Lycopene is a powerful hunter of gene damaging free radicals, and it provides the vibrant red color in cherries, apples, strawberries, the flesh of watermelons, red bell pepper, beets, cranberries, raspberries, tomatoes, red grapes, and red onion. Work more of these into your diet for added protection against heart and lung disease, as well as prostate cancer.
Orange

and

Yellow

:
Beta Cryptothanxin supports and promotes intracellular communication and may help promote general heart health. You'll want to eat foods containing this phytonutrient, including carrots, pumpkin, sweet potatoes, yellow and orange bell peppers, habanero peppers, mango, banana, pineapple, squash, tangerine, corn, and cantaloupe.
Green

:
Greens are amongst the healthiest foods we can eat! Green fruits and vegetables contain cancer-blocking chemicals like isocyanate, sulforaphane, and indoles, which can block the effects of cancer-causing carcinogens. You're probably already eating some green fruits and vegetables, but you'll want to include more spinach, avocado, asparagus, broccoli, artichokes, alfalfa sprouts, cabbage, kale, seaweed, kiwi, green tea, and collard greens into your diet.
Blue

and

Purple

:
Anthocyanins are believed to delay the cellular aging process, and help block the formation of blood clots, improving cardiovascular health. Anthocyanins give the distinctive blue and purple coloration to blueberries, grapes, eggplant, purple cabbage, blackberries, elderberries, raisins, plums, figs, and prunes.
White and

Brown

:
Allicin is known for its anti-cancer and tumor fighting properties and includes flavonoids like quercetin and kaempferol. White and Brown fruits and vegetables have also been shown to strengthen bones. You'll find a supply of this important phytonutrient in white and brown plants, including onions, garlic, cauliflower, parsnips, radish, mushrooms, coconut, jicama, and leeks.
Try to incorporate 4 ½ cups of these color rich fruits and vegetables into your daily diet, to jumpstart the healthy effects of phytonutrients. Spread out across breakfast, lunch, and dinner (plus snacks), this is definitely easier than it may sound. Here are some suggestions towards meeting this goal:
Keep Servings Small-ish – With a couple exceptions, a half cup of chopped fruits or vegetables constitutes one complete serving. Because of their volume, a whole cup of leafy greens (Spinach, Lettuce, Arugula, etc.) constitutes a serving.
Wrawp It Up – Use one of our Veggie Wraps or Coconut Wraps to make a clean, convenient, portable meal.  Or craft a quick snack with a wrap, and a couple of your favorite fruits or vegetables.
Break the Day Up into Twos – Try to eat two servings of colorful fruits and vegetables with each meal, during your day.
Keep an Eye on Your Cart – When shopping for produce, try to purchase a diverse array of colors. If you notice you're buying too many of one color, balance it out by adding additional colors, and their unique phytonutrients.
Snacks Need Color, too – Eating healthier can allow you to eat a little more often, and this includes snacks. Raw fruits, or sliced vegetables make a great snack, but healthy indulgences like WrawP Kelp Seaweed Chips or Coconut Jerky varieties are also excellent choices.
Try to Buy Local Produce

(…but Frozen is Better Than Nothing) – Co-Ops and Farmers Markets offer opportunities to buy locally sourced produce, which can be both fresher, healthier, and better for the planet (less shipping and transportation being involved). But when this is not available, frozen fruits and vegetables are still very good for you, and always better than nothing.
Have Fun! – Eating healthier shouldn't be a chore. Consider it more of an adventure, and the payoff is a stronger, happier you! Try new foods and take chances on fruits and vegetables you'd never even considered. On our site, we have a ton of delicious, healthy recipes for you to explore along with a Free Downloadable Recipe E-Book!