Raw Layer Cake Wraps with Cashew and Berries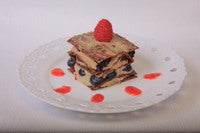 Ingredients:
2 cups Raw Cashew
1 whole Vanilla Bean
2 cup Water
1/2 cup Agave 
1/2 cup Blueberry
1/2 cup Raspberry
1/2 cup Blackberry
1 Banana
Instructions:
To make the cashew cream - put Cashews, Vanilla Bean, Water, and Agave in a Vitamix and blend it to a very smooth, creamy texture. Cut Energizing Morning WrawP into smaller square pieces.  Apply Cashew Cream on every piece of the Wrawp and stack the pieces one on top of another. Then layer it with fruits and berries in the middle. Let the cake sit for 30min-2h in refrigerator. It will get soft and full of flavor. Enjoy.