Chipotle Chicken Fajitas-Style Gluten-Free Wraps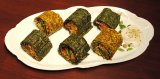 This recipe comes from our friends' log cabin in the Rocky Mountain high country. One night for dinner, our hosts made a chipotle-marinated steak. When we returned home, we were inspired to make a chipotle-based marinade, which resulted in this fajitas-style Gluten-Free Wraps recipe! It has since become a staple of our dinner menu featuring our Original Wrawp Gluten-Free Wraps.
Serving size: 6 servings
Prep Time: 30-60 min
Total time: 20 min
For Chipotle Chicken Fajitas-Style Gluten-Free Wraps you'll need the following ingredients:
1 cup of cranberry juice
1 serving of lime/lemon juice(about 1/4 cup)
2 tablespoons of red wine vinegar
2 to 4 canned chipotle chiles in adobo sauce (use more or less, depending on how spicy you like your Fajitas-Style Gluten-Free Wraps)
4 garlic cloves, peeled
2 teaspoons of dried oregano
1 teaspoon of ground cumin
Salt and pepper
4 boneless, skinless chicken breasts
Grilled Fajita Vegetables
Optional Toppings
Shredded Monterey Jack cheese
Sour cream
Sliced avocado
Shredded lettuce
Salsa of your choice
Directions
To make the marinade, combine the cranberry juice, lime/lemon juice, vinegar, chiles, garlic, oregano, and cumin with salt and pepper in a food processor and blend until smooth.
Transfer the marinade to a shallow dish and add the chicken, turning to coat. Cover and marinate for 30 to 60 minutes.
Preheat a grill to medium-high heat.
Grill the chicken, turning once, until no longer pink, 8 to 10 minutes. Baste with the marinade while grilling until 5 minutes before the chicken is cooked through. Let the chicken cool for 10 minutes.
While the chicken cools, put the remaining marinade in a small saucepan and bring to a boil over high heat. Cook for 5 minutes (to both reduce the sauce and kill any bacteria from the raw chicken).
Slice the chicken into 1/2-inch-thick slices. Serve the reduced marinade on the side (to be drizzled over the chicken and other fillings).
Serve the chicken with the Original Wrawp Gluten-Free Wraps, vegetables, and your choice of toppings.
Tips and recommendations to consider for this recipe:
Not all brands are safe. Some versions of adobo sauce include wheat flour. Always read labels to make sure you're buying a gluten-free version.
If you need another amazing recipe, check out our Grilled Hummus Veggie Wrap