EXOTIC ROASTED AFRICAN SALMON GLUTEN-FREE WRAP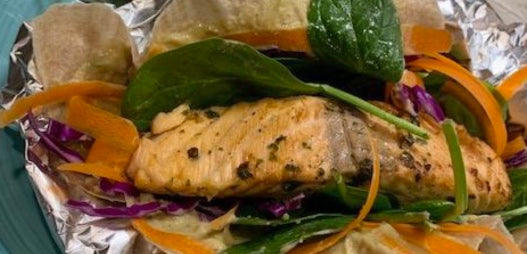 INGREDIENTS
1/8 C COCONUT YOGURT

1TB CHOPPED PARSLEY

1TB CHOPPED CILANTRO

1 TB LEMON JUICE

2 TS OLIVE OIL

1TB CHOPPED GARLIC

1 TS PAPRIKA,

1⁄4

TS CUMIN, SALT AND GROUND PEPPER 4 OZ SALMON FILLET
FILLING INGREDIENTS:
AVOCADO HUMMUS ABOUT 3 TB,

SHREDDED CARROT ABOUT 1/8 CUP,

RED CABBAGE ABOUT 1/8 CUP,

FRESH SPINACH 12 LEAVES.
INGREDIENTS FOR DIPPING SAUCE
1/4 C. OLIVE OIL

1 T. FRESHLY SQUEEZED LEMON JUICE

1 TS FRESHLY SQUEEZED LIME JUICE

1 CLOVES GARLIC, MINCED

1/2 RED FRESNO CHILI, SEEDED AND MINCED

1 TS SWEET PAPRIKA

1 TSP. GROUND CUMIN

1/2 TSP. GROUND CORIANDER

1/2 TSP. KOSHER SALT

1 PINCH BLACK PEPPER

2 TB CHOPPED AND LOOSELY PACKED FRESH CILANTRO
DIRECTIONS
For the Dipping sauce:
put all in a blender/mixer and pulse till blended well and let rest.
For the Salmon:
Mix parsley, cilantro, lemon juice, oil, garlic, paprika, cumin, salt and pepper and the yogurt in a bowl and then pour in a bowl and toss the salmon in the mixture and cover and refrigerate for 30 minutes flipping every 10 minutes.

In a preheated 450-degree oven. Grease a non-stick pan with 1TB coconut oil, roast for 12-15 minutes or until temp reaches 145 degrees.

Refrigerate for 30 minutes.
ENJOY!
You can also use any gluten-free wrap from our collections: