Raw Wraps Sweet Rolls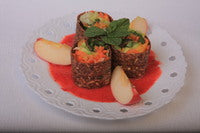 Ingredients:
3 Energy Morning gluten free wraps
1 cup of Raw Cashew
1 whole Vanila Bean
3 cups of Raspberry
1 cup of Fresh Mint Leaves
2 cup of Coconut Nectar or Honey 
2 cups of Water
1 Green Apple
2 cups of Papaya
2 Kiwi
1 Mango
Instructions:
Cashew Cream - blend in Vitamix Cashew, 1 cup of Coconut Nectar or Agave, Water, Vanila Bean till smooth, creamy consistency. Raspberry sauce - blend Raspberry, Fresh Mint and 1 cup of Coconut Nectar or Agave till sauce consistency. Take the Wrawp and put on top fruits, Cashew Cream and Raspberry Sauce. Wrap it up, cut on the smaller pieces and serve with Raspberry Sauce. Enjoy.