Bean Burrito Gluten Free Wraps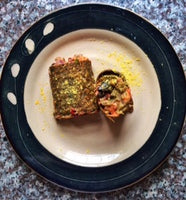 Want a burrito without all the carbs and flour? WrawP is a perfect alternative to tortillas! 
What you will need:
Any kind of beans (kidney beans were used in image above)
Onions
Bell peppers
Tofu
Olives
Guacamole
Salsa
Lettuce
Cut gluten free Wrap in half to get two tortillas. Drain tofu and cut into cubes. Season tofu to your liking and cook. Blend beans in a food processor to get them to refried texture. Cook beans with sliced onions and Mexican seasonings. Feel free to add tofu to bean mixture to add a meaty texture.  Chop bell peppers while beans and tofu are cooking. 
Once everything is done cooking, Spread guacamole on wrap, add lettuce, salsa, beans, tofu and olives. Wrawp, eat and enjoy!